NCTA Seminar Results
The NCTA held two seminars on Jan 13-14, 2012 to promote collegiate athlete development.  The seminars took place in New York City at West Side Taekwondo (
http://westsidetkd.com
).  The first seminar, held on Friday, January 13 covered competition poomsae.  The seminar was led by US National Poomsae Team members Dan Chuang, Christina Park, Rene Chen and Lisa Zhou, and included drills to improve presentation, provide individualized feedback, and practice group critique. Also present were 2011 US National Collegiate Poomsae Team Members Brandon DeSouza and Erika Lee.
The second seminar took place on Saturday, Jan 14.  The seminar was headlined by the founders of the Eastern Collegiate Taekwondo Conference (ECTC), Sung Chul Whang (2005 US National Collegiate Team co-head coach) and Jun Chul Whang (2004 Olympic coach for Trinidad and Tobago).  Also assisting with the seminar were Dan Chuang (NCTA vice president, US National Collegiate Team coach 2008-2011), Chinedum Osuji (2004 Olympian for Trinidad and Toabago, 2007 Pan Am Games bronze medalist),  Christina Park (5-time US National Collegiate Team captain, World University Taekwondo Championships bronze medalist), Fabio Takahashi (Jamaica National Team coach), Dorian Alexander (Trinidad & Tobago national team), Lenn Hypolite (Trinidad and Tobago National team, Pan Am Championships silver  medalist), Rene Chen (US National Poomsae Team member), and Lisa Zhou (US National Poomsae Team Member), Elizabeth Shakhnovich (US National Collegiate Team Member, World University Games bronze medal), James Cadogan (US National Collegiate Team Member), and Jayson Grant (Jamaica National Team member, US National Champion).  Several dozen collegiate athletes were in attendance, and drills and strategy for the modern Taekwondo game were presented, and match sparring with coaching feedback was practiced.
The NCTA thanks West Side Taekwondo and the Masters Whang in particular for their hospitality!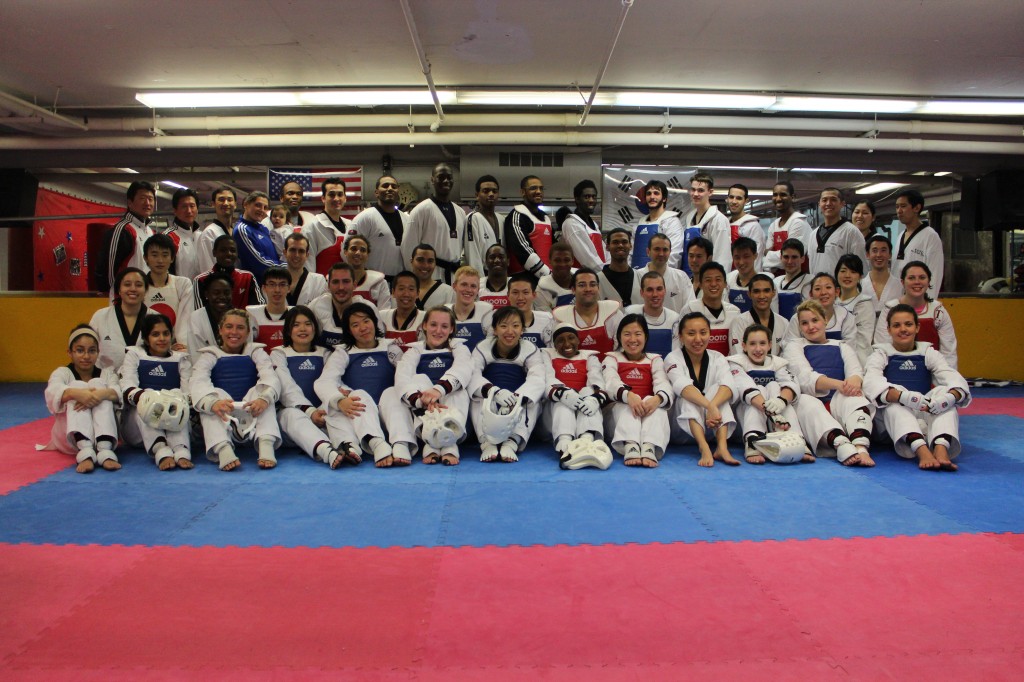 This entry was posted by Webmaster on January 22, 2012 at 11:04 AM, and is filed under Announcements. Follow any responses to this post through RSS 2.0.You can skip to the end and leave a response. Pinging is currently not allowed.