Dr. Russell Ahn Appointed as FISU Taekwondo Technical Delegate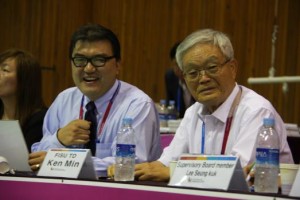 The University of California Martial Arts Program is pleased to announce that UCMAP Director Dr. Russell Ahn has been appointed as Taekwondo Technical Delegate (TD) of the International University Sports Federation (FISU). He will be serving as the technical chairman for the taekwondo events at the Summer Universiade games, which is a biennial competition between universities worldwide. For the past 10 years, Dr. Ahn has been serving as a special assistant for the FISU TD, Dr. Ken Min. Ahn also previously served as the World Taekwondo Federation (WTF) technical delegate for both the 2011 Shenzhen Summer Universiade and the 2015 Gwangju Summer Universiade.
Dr. Ahn was also reappointed as Vice-Chairman of the Youth and Collegiate committee of the WTF, a role in which he has served in since 2010. He has also served in other leadership positions within the WTF, including as the Collegiate Committee Chairman in 2009. He also currently serves as the president of the US National Collegiate Taekwondo Association and is on the board of directors of USA Taekwondo, the national governing body of taekwondo in the United States. He continues to demonstrate thought leadership in the space, including delivering a keynote speech entitled "Global Leadership Development for Taekwondo" at the 5th Seoul Taekwondo World Leaders Forum, hosted by Kukkiwon, the World Taekwondo Headquarters, in Korea.
This impressive array of responsibilities continues the University of California, Berkeley's leadership in the international taekwondo world, as the previous Taekwondo TD to FISU, Dr. Ken Min, also hails from the university. In addition to starting UCMAP, Dr. Min also initiated the university taekwondo movement worldwide, hosting both the 1st and 7th World University Taekwondo Championship (WUTC), a FISU-sanctioned event, at UC Berkeley.
FISU hosted the WUTC until taekwondo's inclusion as an optional event at the Summer Universiade games in 2003. Recently, the FISU executive committee approved taekwondo as a compulsory sport for the Summer Universiade, beginning in 2017 in Taipei. The Summer Universiade only has 11 compulsory sports, but hosts over 60 sports in total. FISU has been engaging universities worldwide to promote sports values and encourage sports practice since 1949.
Recently, Dr. Ahn was promoted to 8th Dan black belt in taekwondo from Kukkiwon.
This entry was posted by Webmaster on December 22, 2015 at 6:30 PM, and is filed under Announcements. Follow any responses to this post through RSS 2.0.Both comments and pings are currently closed.