2011 Universiade
The US National Collegiate Taekwondo Team departed on August 10 from San Francisco en route to the 2011 World University Games (also called the Universiade), to be held in Shenzhen, China. The team attended the opening ceremonies on Friday, Aug 12 and will compete on Aug 18-23.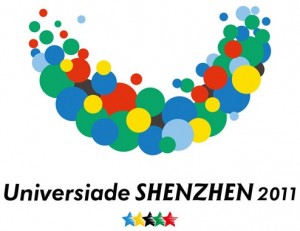 The poomsae team consists of Rocky Cao (DeAnza College, men's team), Rene Chen (Rhode Island School of Design, women's individual, mixed pair, women's team), Brandon DeSouza (U. Massachusetts Lowell, mixed pair), Carissa Fu (Princeton University, women's team), Alvin Jong (DeAnza College, men's team), Erika Lee (Massachusetts Institute of Technology, women's team), Ryan Lien (Mt. San Antonio College, men's individual), and Long Nguyen (San Jose State University, men's team).
The men's sparring team is represented by Adrian Zambrano (Glendale Community College, 54 kg), Tyler Sawyer (Santa Clara University, 58 kg), Stepfon Westbrook (California State University, Northridge, 63 kg ), Jensen Ishida (University of Hawaii-Manoa, 68 kg), Alex Ahlstrom (California State University, Northridge, 74 kg), Phillip Yun (University of the Pacific, 80 kg), Jared Reed (American River College, 87 kg), and Stephen Lambdin (California Lutheran University, +87 kg).
The women's sparring team is represented by Katherine Trinh (University of California, Berkeley, 46 kg), Jazzmynn Paguirigan (Los Medanos College, 49 kg), Aziza Chambers (University of Dayton, 53 kg), Shaina Krause (George Mason, 57 kg), Jennifer Daye (University of Central Oklahoma, 62 kg), Tasha Pruter (University of Missouri, Kansas city, 67 kg), Blanca "Jenny" Quezada (Arizona State University, 73 kg), and Danielle Harrison (Johnson and Wales, +73 kg).
Lambdin and Chambers are National Collegiate Team captains. The team director for the trip is Han Won Lee.  The team leaders for the trip are Jae Ho Kim.  Byung Ryu, Chang Choi and Chan Wu Sr. are also delegation members.
The team is coached by Head Coach Tim Ghormley.  Serving as sparring coaches are Chul Ho Kim, Reynaldo Soriano, and Steve Robarsky.  The poomsae coach is Dan Chuang.  The senior team manager is Alex Antipa, joined by men's team manager Rex Hatfield and women's team manager Linda Buell.  Providing medical care are Jo Silkin and Dr. Sherri Lashomb.
NCTA President Dr. Russell Ahn will be serving as the World Taekwondo Federation Technical Delegate for the games, and NCTA Referee Chair Jun C. Yoon and Greg Kailian will be serving as referees at the Games.
The World University Games are broadcast at www.livefisu.tv/watchlive.