Dr. Ahn receives Korean Ministry of Culture, Sport and Tourism award
Greetings from UC Martial Arts!
Earlier this month, Taekwondo celebrated its 4th birthday. In 2008, the Korean government officially inaugurated September 4th as "World Taekwondo Day". This day was created in memory of Taekwondo becoming an official event of the Olympics during the IOC Congress in Paris on this very day back in 1994. Dr. Russell Ahn, the Endowed Director of the UC Martial Arts Program (UCMAP) was participating as a panelist at 6th International Taekwondo Symposium in Seoul, Korea on September 3rd and he was also fortunate enough to be there at the time of the celebration, on his way back home. This event took place at the Grand Hilton Hotel in Seoul, Korea with around 500 participants from all over the world including WTF President Choue, Kukkiwon President Kang, Kukkiwon Chairman Joo-Hoon Kim, TPF Chairman Bae, Patric Chamunda and Tomas Amos Ganda Sithole from the IOC. Each had a speech prepared, encouraging the guests to continue their endeavors in promoting Taekwondo. President Choue stated in his opening speech that "young Taekwondo athletes gave hope to many fans, showing them how their dreams came true. Through the Olympic spirit, Taekwondo is bringing us together, and is giving us hope for a brighter future."
At this celebration, 20 individuals were recognized for their contributions in Taekwondo throughout the world. This included none other than Dr. Ahn. He received the Minister's award from the Korean Ministry of Culture, Sport and Tourism for his contribution for promoting Taekwondo through University of California, Berkeley, UCMAP, the National Collegiate Taekwondo Association, International Taekwondo Symposiums and a variety of International University Taekwondo events.
Dr. Ahn, currently the President of the U.S. National Collegiate Taekwondo Association, has been working hard with these different organizations to continue to ensure that Taekwondo has a place in this world. He is working tirelessly to gain more experience and furthering his education by working towards receiving his M.A. in Leadership to ensure he is fully equipped to leading young athletes on the right path. Taekwondo continues to demonstrate its staying power as seen in this past London Olympics, and hopefully will continue to do so in the future.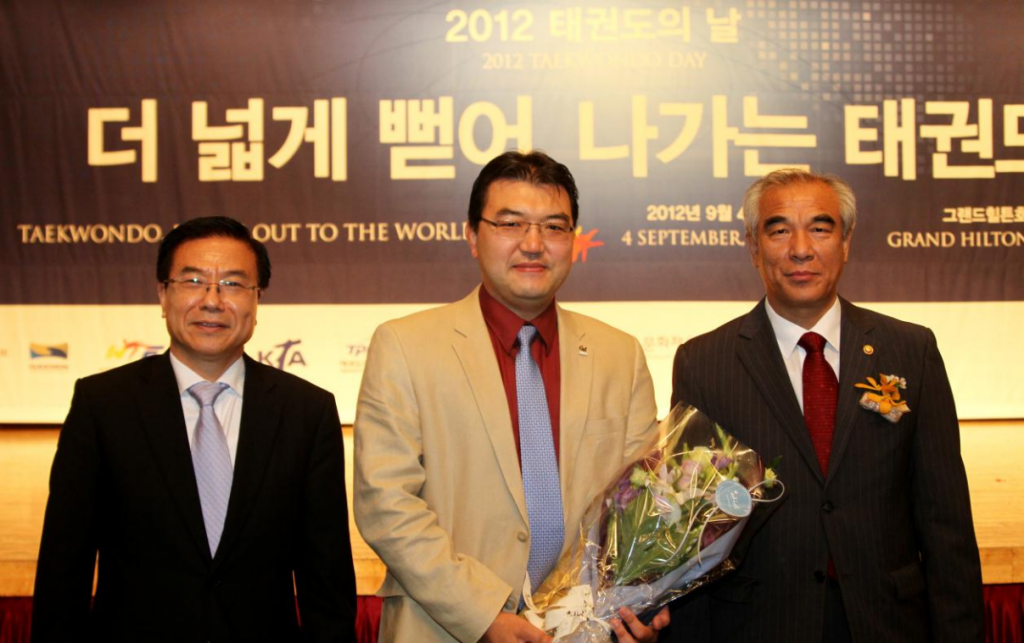 This entry was posted by Webmaster on September 13, 2012 at 6:44 PM, and is filed under Announcements. Follow any responses to this post through RSS 2.0.You can skip to the end and leave a response. Pinging is currently not allowed.