US National Collegiate Taekwondo Team Participates in Week-Long Training Camp in Korea
The US National Collegiate Taekwondo Team traveled to South Korea to participate in a national team training camp from August 4 to August 12, 2013. The camp was sponsored by the National Collegiate Taekwondo Association (NCTA) and Mooto USA, and coordinated by NCTA president Russell Ahn in collaboration with the Korean University Taekwondo Federation. Fifteen sparring and six poomsae athletes traveled to train and scrimmage with their Korean counterparts.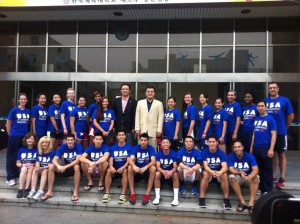 (The US National Collegiate Taekwondo Team at Korea National Sports University)
Regarding the trip, President Ahn, "We were very fortunate to have KUTF's generous hospitality and coordination. On behalf of NCTA, I will continue to expand our international exchanges with various countries that are strong in Taekwondo to elevate our techniques and level of international competition experience. I appreciate all of our staff and athletes who worked hard to make this trip successful."
The team was fortunate to visit elite Taekwondo programs at Korea National Sports University (KNSU), Yong In University, Woosuk University, and Nazarene University. Each of these collegiate programs have produced Taekwondo world champions or Korean national team members within this past year. The US team participated in rigorous sparring/poomsae training sessions and match sparring with each of these schools.
Said women's team captain Aziza Chambers, "I really enjoyed this experience. We ... got to focus on training and gaining knowledge about how others train, so we could incorporate it into our own training/fighting style."
Men's sparring team member Jensen Ishida said, "The [Korean athletes'] training ethic and intensity was amazing, which really motivated me when I got back home. I was able to learn a lot about myself as a fighter."
Regarding the poomsae training, Carissa Fu said, "Having the opportunity to train this entire week with elite poomsae athletes afforded us the chance to not only learn from the best, but also incorporate our newly acquired knowledge in practice immediately."
In addition to the University programs, the team had the unique opportunity to train with the Korean Unconventional Warfare Task Force sparring competition team, which contained several former Korean national team members. The US collegiate team was the first national team to visit the Task Force base and had the opportunity to meet the base commander, Korean Lt. Gen. Jun Gyu Jang.
On August 9, the US collegiate team participated in a televised friendly sparring and poomsae scrimmage with some elite Korean collegiate sparring and poomsae athletes in Chungyang city. The sparring team won 8 and lost 7 matches for an overall winning record, and split the male (loss) and female (win) tag team matches. The poomsae team went 0-3 against their Korean counterparts, who included two former world champions.
(Sparring and Poomsae scrimmage in Chungyang City)
Said head coach Dan Chuang, "All of the athletes really rose to the occasion at the scrimmage. After 3 days of hard training and match sparring, the athletes weren't at 100% but still performed very well and matched up very well with the Korean athletes."
The team also had an opportunity to visit important Taekwondo sites, including the new Taekwondowon park in Muju, which the team visited in advance of its opening in early 2014. The US team was the first national team to receive a tour of the new $500 million complex. The team also visited the Kukkiwon, World Taekwondo Headquarters.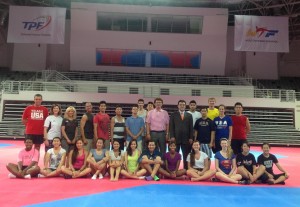 (The US Team at the new Taekwondo stadium in the Taekwondowon in Muju)
The men's sparring team was represented by Jonathan Nguyen (Mesa Comm. Coll.), Simon Rodriguez (U. of Utah), Jensen Ishiida (U. of Hawaii), Thomas Rahimi (North Lake College), Alex Ahlstrom (Los Angeles Comm. College), Cameron Weber (Colorado State Univ.), and Phillip Yun (U. of the Pacific). Nguyen, a 6-time team member and two-time world collegiate medalist, was the men's team captain.
The women's sparring team was represented by Samery Moras-Angeles (U. of Utah), Jessie Lynn Bates (Central New Mexico Comm. Coll.), Aziza Chambers (Write State University), Gina-Louise Williams (Orange Coast College), Tasha Pruter (U. Missouri, Kansas City), Alexandra Cinque (Fordham University), Jacqueline Galloway (ITT Technical Institute), and Adrienne Ivey (Stanford University). Chambers, a 7-time consecutive team member and world collegiate medalist, was the women's team captain.
The poomsae team was represented by Jonathan Nguyen (Mesa), Megan Yi (U. California, Irvine), Brandon DeSouza (Middlesex Comm. Coll.), Miyako Yerick (U. Texas, Austin), Carissa Fu (Boston Univ.), and Michelle Chen (Massachusetts Institute of Technology). DeSouza, a 2-time team member, was the poomsae team captain.
Team members who were unable to travel with the team were sparring athlete Tyler Sawyer (Santa Clara U.) and poomsae athletes Hazel Cruz (Santa Clara U.), Lance Supnet (Evergreen Valley Coll.), Alvin Jong (U. of California, Davis) and Albert Jong (San Jose State Univ.).
NCTA President Russell Ahn was the team leader, and the head coach was Dan Chuang. Other staff included team director Han Jin Do, sparring coach Marcus Santos, poomsae coach Kristi George, team managers Heidi Fagerquist and Andrew Suh, and team doctor Sherri Lashomb.